Desks
The cornerstone of any office, a fine desk can really become an extension of you. Why change to fit your desk? Design your desk to fit you with our wide variety of custom options. Each desk is handmade out of the solid wood, finish, and style of your choosing. Gone are the days of buying a desk in a box. Our quality furniture is made to last decades and beyond. And if you want a change over time, it can be sanded, stained, and painted. Buying a desk from Stuart-David is making an investment in your future; one that can be passed to the next generation.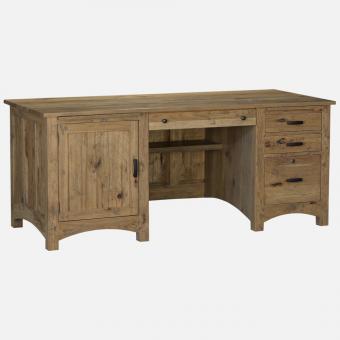 Can't have an Office without a Desk
Certainly, no office can be called an office, without a desk. In the Modesto, Sacramento, Fresno, Livermore, Oakdale area, there is no greater source for artfully crafted solid wood office furniture than Stuart David Furniture. For decades, Stuart David has developed solid wood desks of all shapes and sizes. From simple wood writing tables to executive desks, U-shaped wooden workspaces, computer desks and beyond. Stuart David does it all!
Why have a Solid Wood Desk?
Solid wood is king when it comes to desks. Most office furniture made by other companies are quite literally a paper-thin veneer (usually made from plastic) over particle board. Not only is natural wood unmistakably recognizable and infinitely more beautiful than a sawdust and glue desk, real wood withstands the rigors of actual use. After all, a desk should be designed to actually be used. Bump a cheaply made, fiberboard desk one time….and it might as well be thrown away. A real wood desk can last for generations and even be refinished if need be.
Made to Order to Fit Your Needs
At Stuart David, we make your home office furniture and desks to order. Being the manufacturer allows us to customize your desk to your heart's delight. From an exceptionally large selection of natural wood material to an even larger array of stain and paint options, finding the perfect desk for an office, home office or even a corner in a home is easy. We even offer the ability to customize and fine-tune sizes.
Some clients only need a writing surface or flat place to set a laptop. For others, a large encompassing work area is required. Still, others need storage and or an impressive symbolic statement piece that hints at their serious business intent. Stuart David offers solutions for all these needs. Solid wood, dovetail, lumber drawers with full extension ball bearing glides, beauty beyond compare, that is furniture manufactured by Stuart David. It may be hard to grasp the number of options and configurations available online with our desks. Also, viewing our desks online only gives you a glimpse of their true beauty. We encourage all our customers to visit our store / factory showroom where they can see and feel the true beauty of a wood desk and work with our sales people to understand the options and the price of their selection.