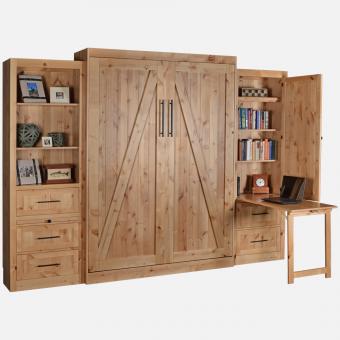 What is a wall bed pier?
These are the units that attach to the side of a wall bed / Murphy bed. At Stuart David we use the word pier, but customers, other manufacturers, and retailers may call them the following: companion unit, side unit, cabinet, side cabinet, or bookcase. A pier unit is a great addition to a wall bed because it can add significant functionality and style to the unit. These units fasten directly to a wall bed. In essence, a murphy bed with bookcases / wall bed with piers, turns a bed into a murphy bed wall system. A Murphy bed and a wall bed are essentially the same thing. For more information, please refer to the following link
At Stuart David Furniture, we have listened to our customers over the years and put a lot of thought into how to maximize utility and aesthetics when it comes to murphy bed cabinets. Our Murphy bed wall systems feature many unique design features that set them apart from other offerings. We try to consider all the potential pitfalls our customers might not think about when contemplating the purchase of one of our beds. For starters, wall beds must mount flush to a wall. Most people don't want the hassle of removing their base molding and refinishing their wall to make this possible. To this end, Stuart David wall bed bookcases feature a 1 x 6" base cutout which eliminates this headache.
Access to power supplies is a typically overlooked concern. Our piers address this issue in a few ways. First, we offer access holes near the base of the bed & piers, which allows for chords to pass from the bed to the bookcase. In addition, most of our bookcases feature grommet holes allowing for chords to run from the lower portion of the wall bed bookcase, through the middle shelf. In addition, we do not install a back panel to the lower portion of the bookcase. This provides unfettered access to a wall's power supply, independent of where it happens to be located.
We offer a myriad of murphy bed bookcase configurations and styles. Some options include: Solid wood dovetailed drawers, solid wood doors, wardrobe cupboards, even a folding desk, hidden from view behind a beautiful real wood door. Stuart David murphy bed piers are made 24", 28" & 32" wide plus trim depending on the choice of unit. They can even be made slightly shorter and less deep than the Murphy bed itself, yielding a step effect to the system. It is also not uncommon for people to fill an entire wall with a bed and piers, stringing many bookcases together. Tight space, difficult room situation? No problem. We can customize the size of a pier and even sell murphy bed wall units as stand-alone bookshelves.